As we all look to determine how best to re-enter our workplace while providing employees comfort, safety, and choice, we need a roadmap and tools to support our efforts. Your roadmap should include:
A workplace re-entry plan that combines HQ + flex + work-from-home
Access to the largest flexible office network
Employee wellness and comfort
A digital platform that offers employee choice and management control
In an effort to support this transition, LiquidSpace is offering Mobility Manager for FREE until the end of September. With the LiquidSpace network and Mobility Manager you can easily set up and manage a curated network of remote workplaces for employees and teams. LiquidSpace gives you the agility you need during this transition. With over 11,000 spaces to choose from your team can book touchdown spaces, private offices, meeting rooms, and team suites on-demand.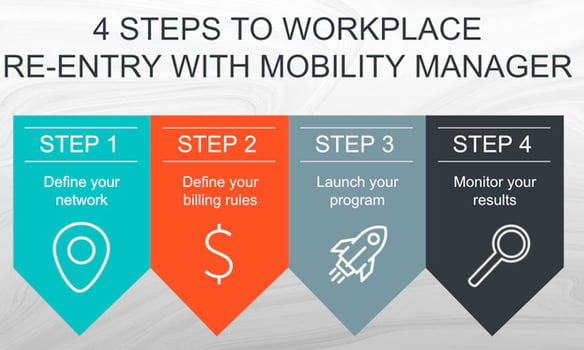 To see how LiquidSpace and Mobility Manager can give you the controls you need while offering your employees the workplace choices they are looking for, simply complete the form to the right to request a conversation with our Enterprise team.
Note, this is a limited offer. If you feel you may benefit from adding a flexible office solution to your re-entry plan, make sure you start today.